Improving the Employee Experience of the California Department of Water Resources with a Modern Intranet
We leveraged the Sitecore Experience Platform to provide a personalized Intranet for a truly engaging employee experience.
In early 2020, SymSoft collaborated with The California Department of Water Resources (DWR) to redesign their Intranet (named "Blue"), using the Sitecore Experience Platform. Blue provides employees with an experience that keeps them engaged and coming back for more.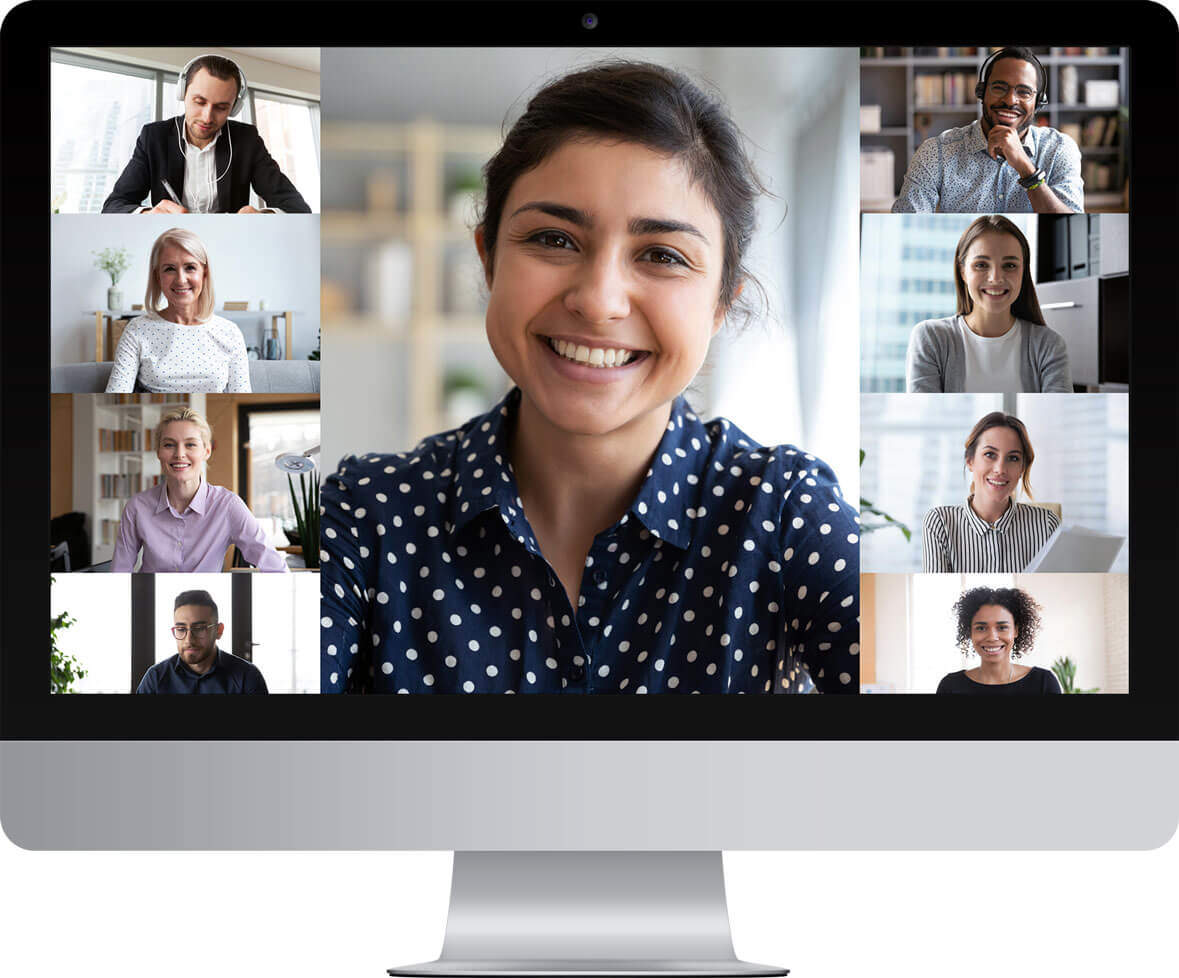 Questions to the Director per Month
Employee Reach for Featured Content
Acknowledgments and Kudos ("Shoutouts") shared Between Employees per Month
Challenges and Requirements
In the state government, it is not commonplace or even expected from employees to understand the strategic direction of an organization, and many employees might miss an opportunity to participate. DWR was not immune to this phenomenon — its previous Intranet did not serve the employees' needs. It wasn't easy to find necessary information, requiring multiple levels of approval to post content, which inevitably delayed the release of pertinent information. Many documents and forms were out of date. It also did not promote social connections between employees or create channels for employees to communicate with executive leadership.
Solution
DWR focused on finding a platform that could support these needs. The Sitecore® Experience Platform™ enabled the Department to develop a new intranet that enhanced employee connections and the overall Intranet experience, both in business and technical aspects.
SymSoft worked with DWR to conduct focus groups and identify employee needs that informed the development of the employee-centered solution, including the streamlined information architecture and content organization. This included presentation of concepts that were fully focused on employees, more focused on top-down communication, and a balance of both, which was ultimately the chosen concept based on the needs of both employees and the organization.
Using Sitecore, we developed features for employee recognition (called "Shoutouts"), used personalization to show relevant news, events, and content based on employee location and interests, leveraged xDB for storage of favorite content and applications, and implemented bi-directional communication between management and individual contributors through Sitecore Forms and E-mail campaigns and alerts. The Sitecore platform catalyzed the Department's digital transformation journey, supporting the transition of DWR's workplace into a digital enterprise.
Outcome
Increased access to relevant information — with 50% of users on a mobile device. This is especially important for 30% of staff that do not work at a computer.
Complex integrations of additional platforms, such as identity management (Azure Active Directory), enterprise resource planning, e-signature (DocuSign), IT and HR service management (ServiceNow), and other systems of engagement.
Improved content reach – within 24 hours, featured content is viewed by 70% of staff. Previously, DWR had no tracking system to understand user engagement.
New content is posted and desseminated to the entire organization within minutes and without IT staff intervention.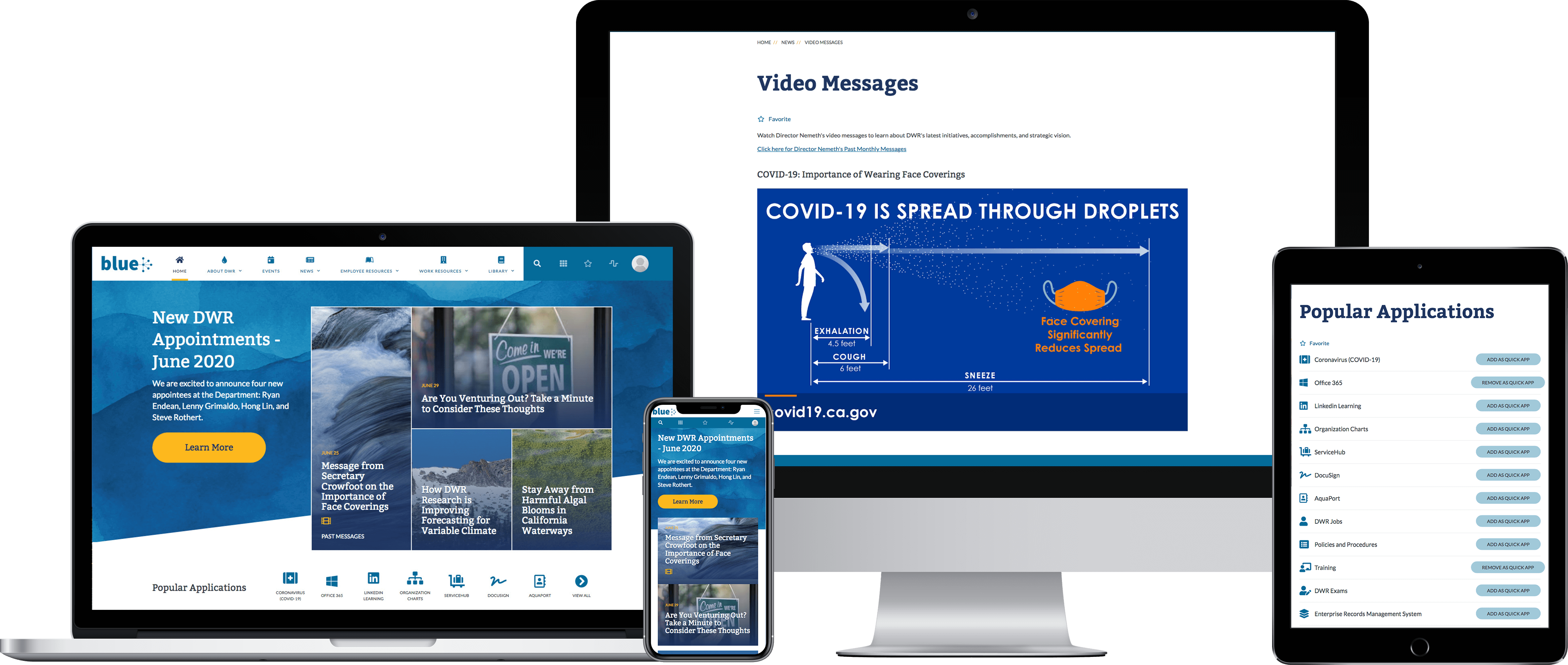 Work Performed and Capabilities of the DWR Intranet ("Blue")
Employee-Centered Design (UX)

 — Information that employees frequently access is readily accessible at the top of the page. Instead of the static information, the most valuable real estate on the webpage now features critical updates.

Organizational Change Management

 — SymSoft worked closely with the DWR Director's Office and Business Operations. This collaboration was instrumental in leading the change within the organization, ensuring successful implementation and employee engagement. We are proud to say that the Blue received positive responses across the organization.

Relevant Notifications

 — The Intranet provided a means by which the Director's Office can send quick notifications to all employees, ensuring that they are kept up-to-date with critical organizational information. A "Featured Content" area at the top of the home page serves the Director's office. Any content changes or modifications result in automatic e-mail notifications to all employees providing links to the associated content.

Azure Active Directory (AAD) Integration

 — The Sitecore solution was integrated with AAD, providing a single-sign-on experience, and allowing employees access to the site from virtually anywhere. Additionally, we integrated C-Cure, the employee security and badging system, to synchronize photos with AAD, and subsequently to xDB in Sitecore, ensuring that the Intranet and Microsoft Office applications had consistent employee avatars.

People Search

 — We leveraged the Sitecore Experience Database (xDB) to store employee profile information, including favorite links and apps, as well as Intranet browsing history. The newly implemented employee database now allows employees to quickly look up their colleagues, based on their names, job titles, skills, or departmental units in which they worked.

Information Assets

 — One of the essential advantages of content management is single-location information storage. The Sitecore implementation opened up numerous opportunities for information reuse. Information from various systems is aggregated into a single digital experience. For example, content posted on the public (Internet) website automatically appears on the Intranet site. Documents and photography in the Sitecore Media Library are reused across multiple sites.

Accessibility and Inclusion 

— In addition to conventional personal computer devices found in modern offices, the new ADA Section 508 and WCAG AA compliant website is accessible using mobile devices and assistive technologies to accommodate employees of all abilities.