Our Content Services Ensure That Your Message is Found & Heard
Delivering the content your audience needs requires more than just putting words on a page. SymSoft Solutions has helped dozens of State agencies and private organizations tailor their content so that it is found, understood, and meets their needs.
SymSoft Solutions assisted the City of Sacramento's Department of Utilities in making information transparent and accessible in real time.
Making complex data clear and comprehensible to the general public is a significant challenge. Sacramento's Department of Utilities requested that SymSoft Solutions design and develop a one-stop data portal that could deliver real-time easy-to-understand data visualizations of the city's drinking water quality. Using data storytelling techniques, SymSoft ensured that the data was presented in a way that was easily understood by Sacramento's citizens, allowing them to drill down to detailed data if they needed.
SymSoft designed and developed the data portal which was seamlessly integrated into an existing website using an advanced headless content management approach. Integrating this new feature into the existing Sitecore platform significantly reduced development time, cost, and the need for training. The data portal retrieves water quality data for 75 testing locations from the City's ESRI Open Data Portal, and the data storytelling content and information is managed through the existing platform. This system imposes little overhead on City resources, dramatically reducing the time to update (TTU) and ensuring that Sacramento's 500,000 residents have a real-time knowledge of drinking water quality and safety.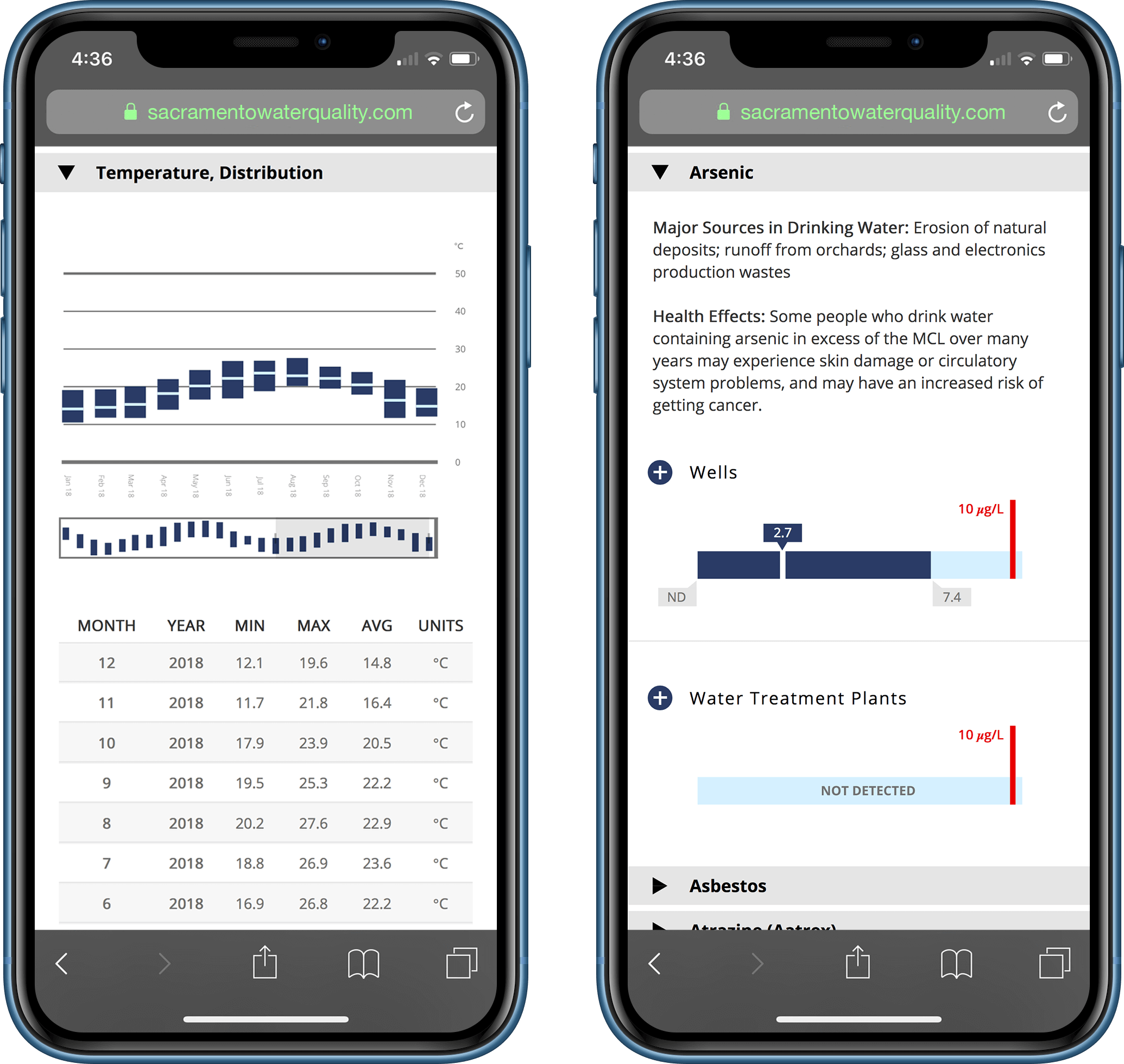 Our content design and content preparation workshops ensure your messages is heard and understood.
When communicating complex information, it's critical that the form of your content gets the message across at a glance, while also enabling deeper analysis. SymSoft Solutions is highly experienced at assembling data, often from many disparate sources, into a simple, accessible user experience.
We can work alongside your content authors and IT personnel to create content designs, templates, and features which ensure your message is clear and uncomplicated. In addition, all content can either be integrated into a new or existing web platform, and be interacted with on desktop and mobile devices. 
But our efforts aren't solely focused on your website content. We conduct content preparation workshops for your organization's authors, subject matter experts, and webmaster. The focus of these workshops are tailored to the specific needs of your organization, with topics including accessibility, search engine optimization, publishing guidelines, information architecture, and more. With SymSoft Solutions as your partner, not only will your existing content better meet the needs of your customers, your content creators will as well.
SymSoft makes your content more discoverable with cutting-edge search experience design.
While the quality and clarity of your content and messaging may be second to none, you have to ensure that your audience can find it. We have helped state agencies, municipal governments, and private organizations bridge the gap between content and customer with advanced search experiences built on Sitecore and other platforms such Coveo.
Most out-of-the-box search solutions provide a serviceable job of providing results when the queries are straightforward. But what about when a searcher does not know exactly what they want? SymSoft can ensure they find what they are looking for by implementing advanced search options that allow for the retrieval of alternative query suggestions, query item highlights, stemmed search, and more. Rather than frustrating users with dead-end searches, our optimized search experience delivers the answer that a user needs, even if they do not quite know how to ask the question.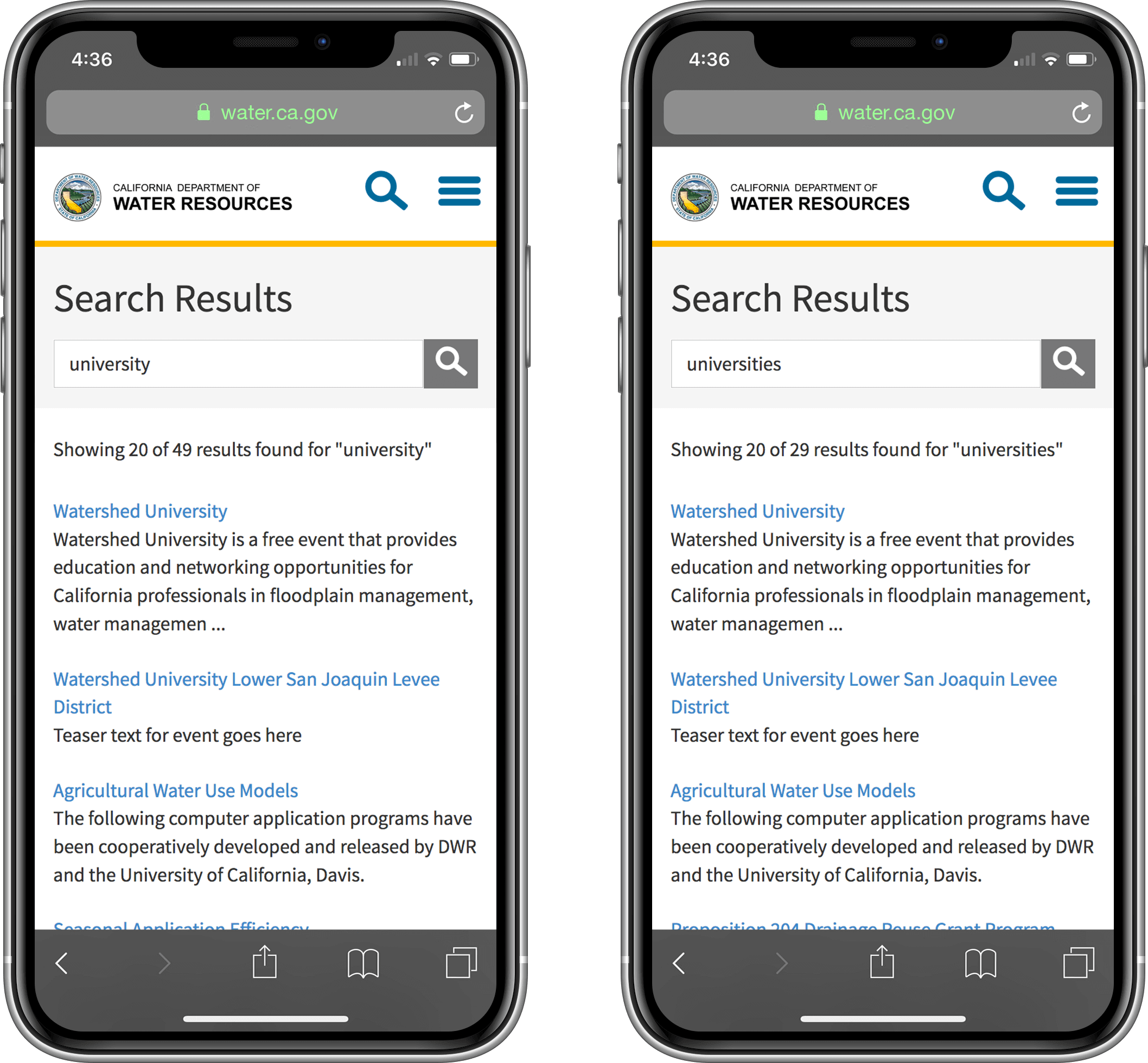 Find your audience with search engine optimization services that anticipate your users' behaviors.
For your audience to connect with your content, they have to find it first, which means that you need to rank high in Google and other search engines for relevant search queries. The 14+ years that we have spent analyzing user behavior and developing advanced search experiences has given us unparalleled insight into how people seek out and consume information.
We have leveraged this expertise to help agencies and organizations structure their web content, content schema, and metadata so that search engines have a better understanding of the relevance of each piece of content. This, along with optimizing your website's structure and loading speeds, gives your content the best possible chance to rank highly for relevant search queries
Find out how SymSoft can help you with your Content Services needs.