A modern implementation of the California state template powered by Sitecore for the Department of Water Resources.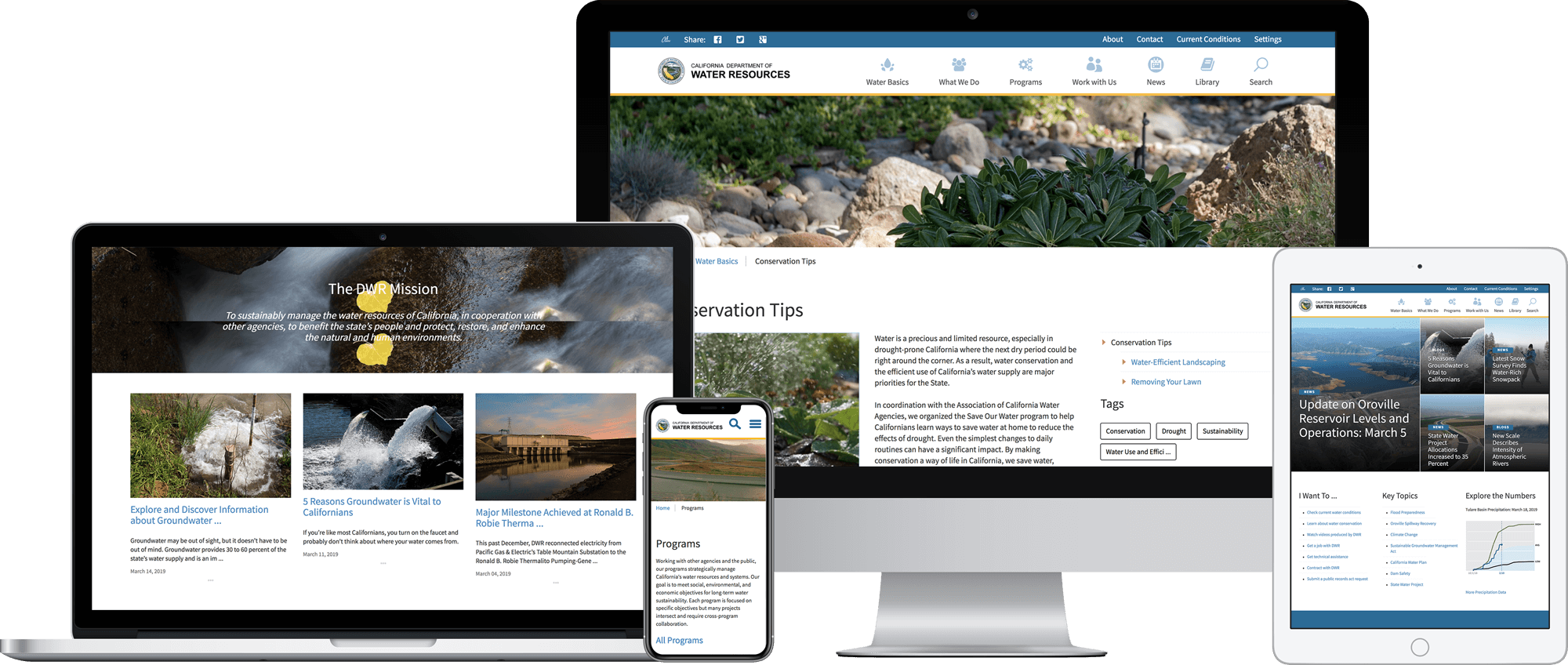 Problem
The California DWR needed a modern content authoring platform to meet the demands of a growing content authoring team with a multi-tier approval system. At the same time, a visual refresh was required to bring the website into accessibility compliance and up to date with the latest version of Califirnia's government template.
Solution
SymSoft implemented Sitecore CMS with a custom configuration of workflow-based content authoring the meet the requirements of the DWR. Our team also helped plan and conduct a large-scale content migration to the new system.
Impact
The new website is able to meet the demands of a more rapid content cycle, with many DWR authors simultaneously contributing content to the new system.
Powerful search and filtering
Due to the large volume of content within the DWR website, tagging is very important to provide useful search and filtering functionality.
The wide variety of DWR content authors obtained two layers of training to update content within Sitecore. First, basic training was conducted directly by Sitecore expert facilitators. At a second level, SymSoft provided solution-specific training to the same authors.

Related services
Similar to popular e-commerce websites, such as Amazon.com, the more people use the portal, the more relevant recommendations they get. However, people's needs change over time and they might be interested in other incentives on their next visit to the portal. That's why — along with the "Save to Wishlist" function — we added a single-click "Reset my Preferences" function. One click and the system starts learning from scratch.
Accessibility Optimization
System Architecture
Personalization Management System
CMS Implementation
Content Migration
Strategy and Technology Support
Digital Marketing Strategy
User Experience Design
Information Architecture
Content Strategy
Prototyping and Testing
Responsive Web Design