User-validated redesign of a customer digital service website and upgrade from Ektron to Sitecore for a Public Utility Commission.
Streamlined access to consumer digital services, financial aid programs, regulatory and proceeding information.
A newly redesigned and modernized website for the California Public Utilities Commission provides easy access for the public and energy sector stakeholders to consumer-centered self-care services and programs and critical information about public utility regulation. Key improvements include a modern, mobile-friendly look-and-feel, user-centric content organization and findability, and compliance with ADA Section 508 and WCAG 2.1 accessibility standards.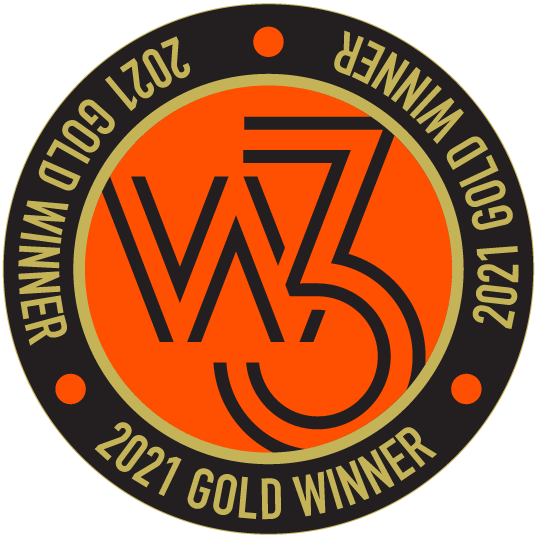 Award-winning Experience
In October 2021, the website received a W3 Gold Award from Academy of Interaction and Visual Arts (AIVA). Continue below to learn about our process, applied technologies, and project outcomes.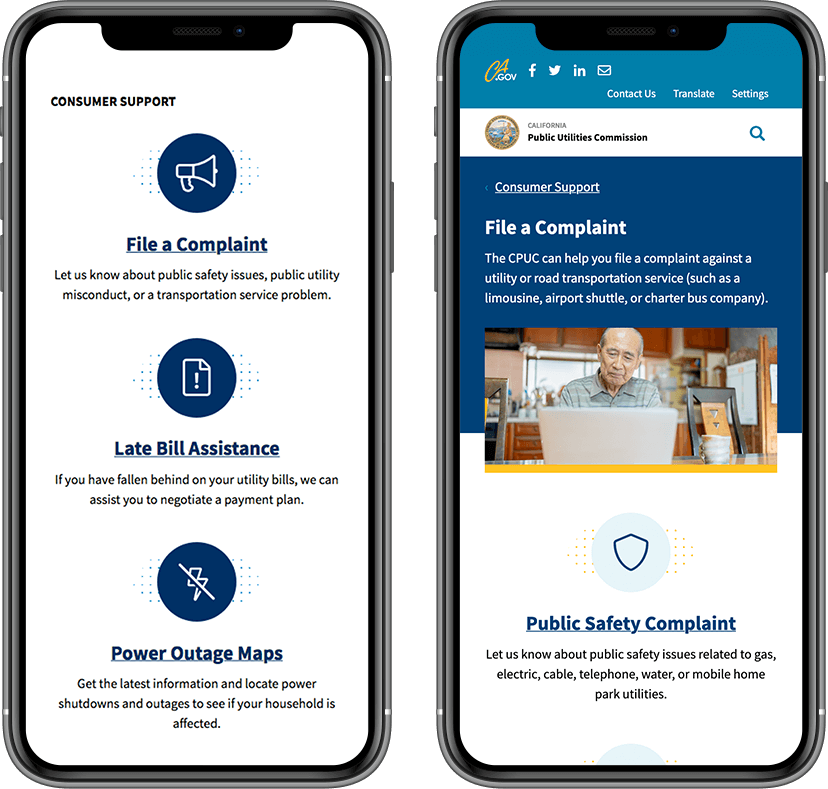 What We Did
Worked closely with the website users to create and validate the usability of the new design.

Implemented the Sitecore Experience Manager Platform.

Integrated Coveo Search Enterprise Platform with Sitecore and Enterprise Oracle Systems.

Supported content migration from Ektron to Sitecore CMS.

Implemented Federated Authentication with Azure Active Directory.

Supported the Organizational Change Management.
Challenges
The lifecycle of the Web Content Management System used by the CPUC (Ektron) ended. Ektron needed to be replaced quickly with an enterprise WCMS while complying with the Commission's business, technical, and support requirements. 

The website visitors required an improved search engine to find the right content and integrated content from relevant systems. 

The previous website had an outdated visual design, inconsistent look-and-feel, and was inaccessible on mobile devices.

The new website needed to comply with WCAG 2.1 and AB 434 accessibility requirements.

The executive leadership's vision was a consumer-centric website.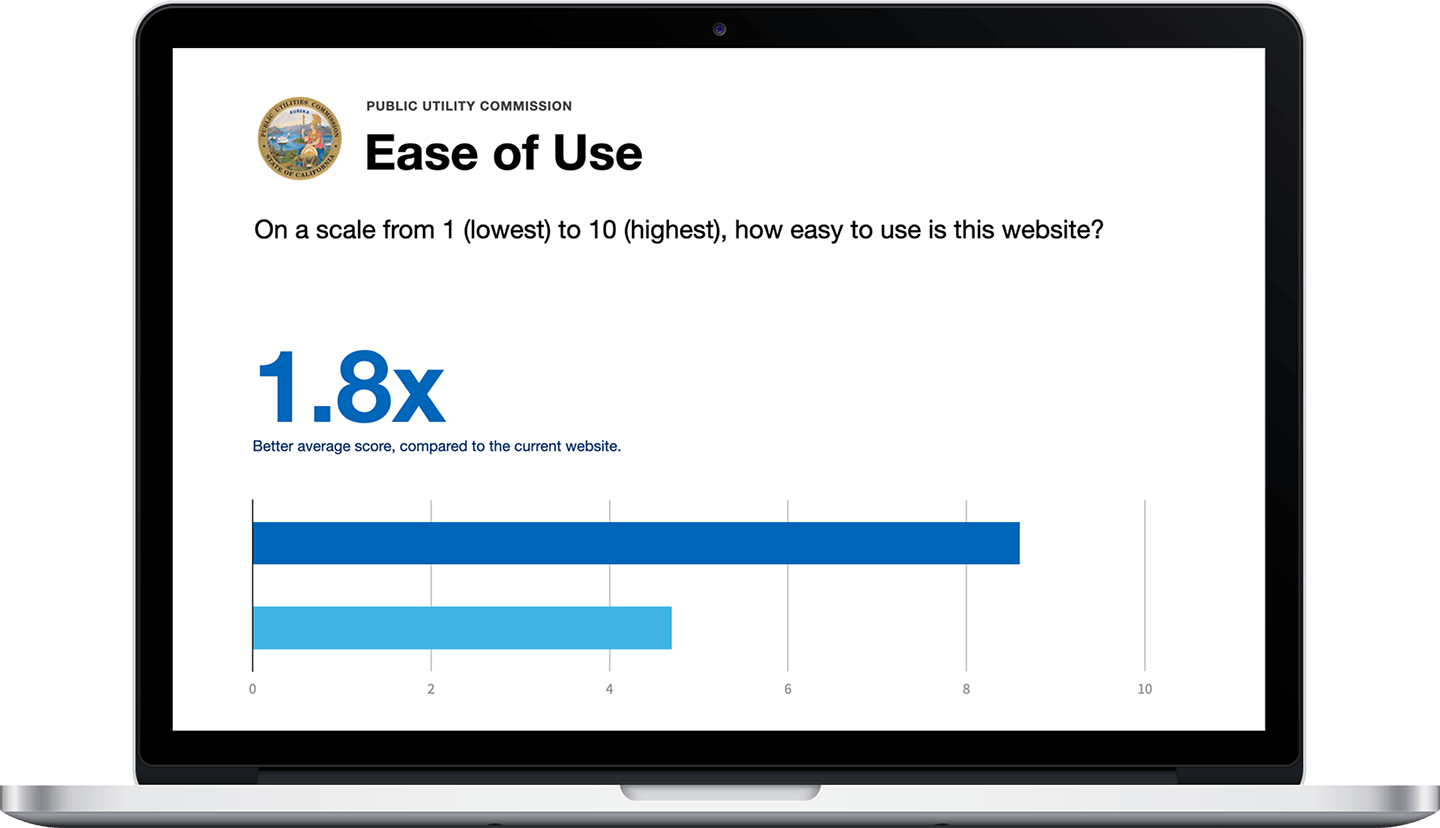 Results
Successfully migrated the features, functionality, and key content from the Ektron CMS to the Sitecore Experience Manager Platform.
Dramatically improved search functionality with Coveo for Sitecore that enables website visitors to retrieve content and documents from multiple disparate systems, like Dockets and other document management applications.
Improved the relevant user experience metrics by up to 180%. This was achieved by streamlining consumer-centered services.
User-validated Experience Design
Upon reviewing the website content, analyzing traffic, and interviewing executive stakeholders, we discovered that the Commission's website serves two types of audiences—the California utility rate-payers and the utility regulation subject matter experts. We organized the website content to prioritize digital services and financial aid programs for consumers with enhanced organization and search capability for the regulation-related content, such as proceedings, public events, policies, policy implementation programs, and support services.
The end-user engagement included a combination of user interviews and three different surveys for website visitors, internal stakeholders, and external stakeholders. Initial insights helped us direct the experience design that was later validated in user sessions that included a combination of quantitative and qualitative research methods, including usability testing. Upon addressing identified gaps, we re-tested the website once again with a new group of participants to ensure that visual design, interaction, communication, and content organization were simple, intuitive, and easy to use.
The most popular adjectives people used to describe the new experience.
Simple and Clean

Helpful

User-friendly

Easy
Website visitors are likely to recommend the website to others.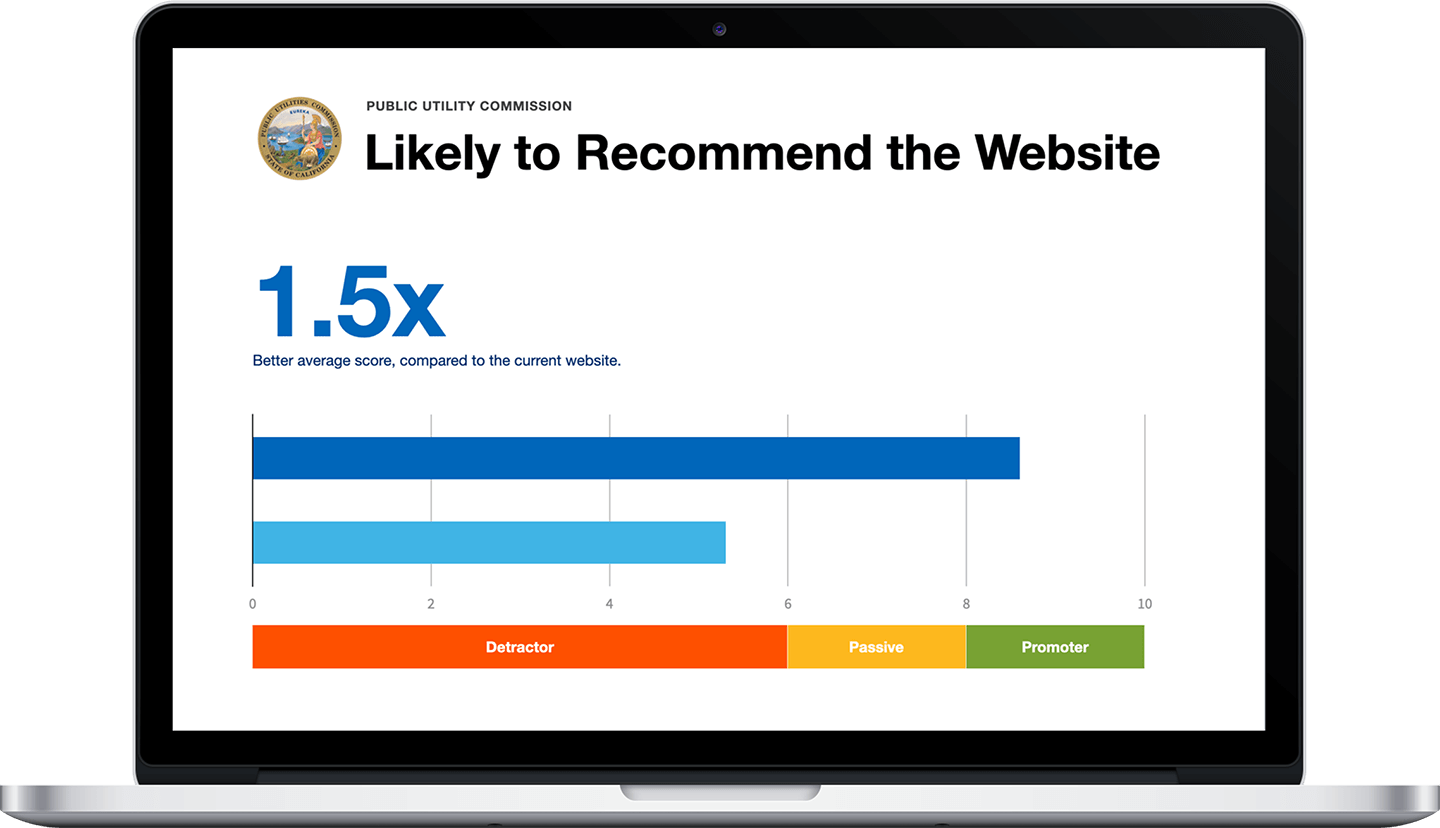 An industry-leading trustworthiness score of 9.9 out of 10.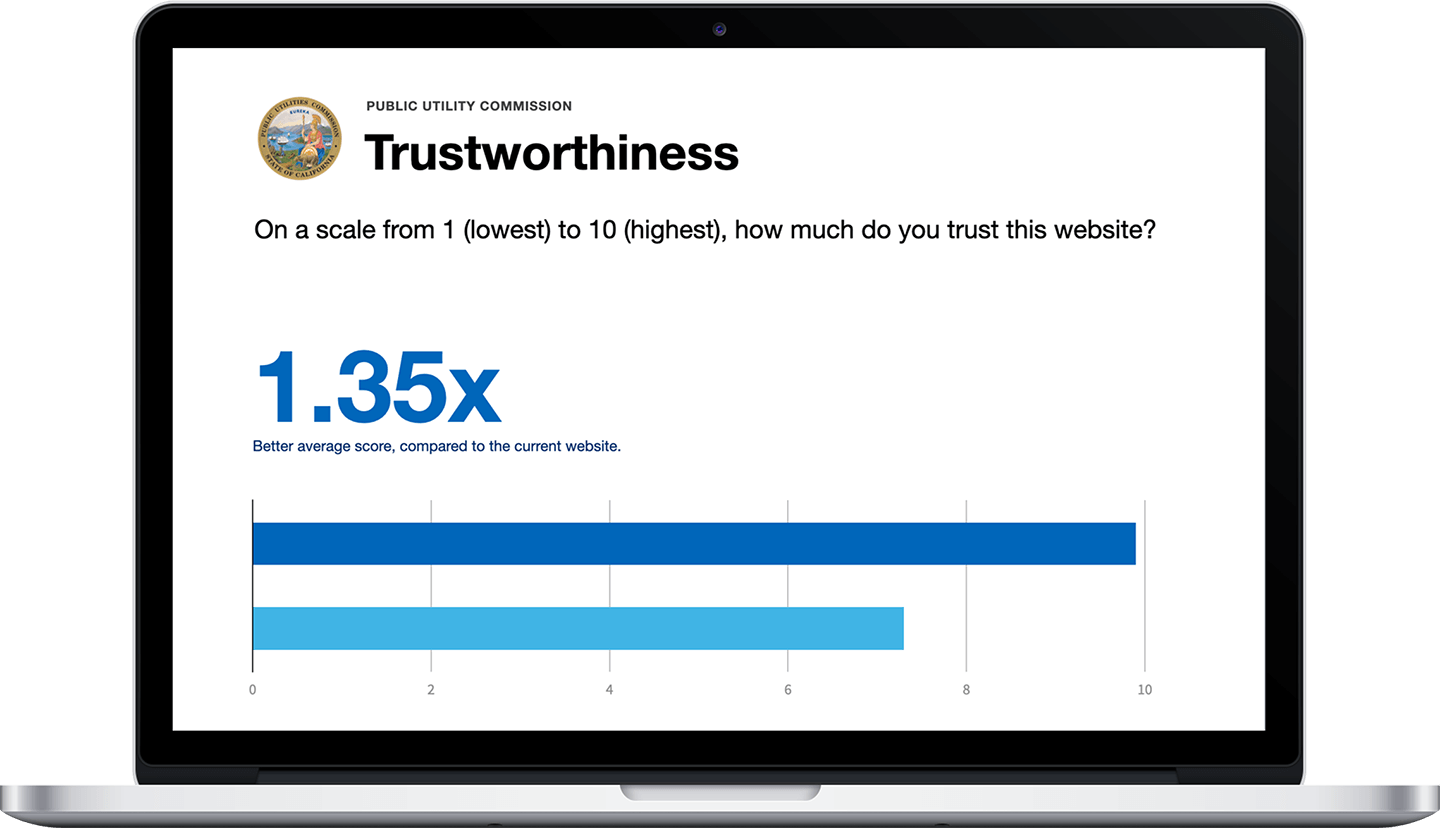 Each participant listed five adjectives to describe their feelings about the website. Adjectives included combinations of easy, friendly, accessible, direct, straightforward, clean, simple, friendly, intuitive, updated, colorful, customer-focused, energy-focused, helpful, consumer-focused, clear display of information, easy search, accessible, attractive, minimalist, informative, organized, clean layout, easy to navigate.
Net Promoter Score is a common metric used to measure loyalty and customer satisfaction. Compared to the old website, the new website improved the score from 5.3 to 8.3 (out of possible 10) thus switching study participants from Detractors to Promoters.
The Trustworthiness metric was already quite high for this website, which is no surprise given the fact that it's a regularly governmental website. A real success though was an extremely high average score with the new website that climbed up to 9.9 points.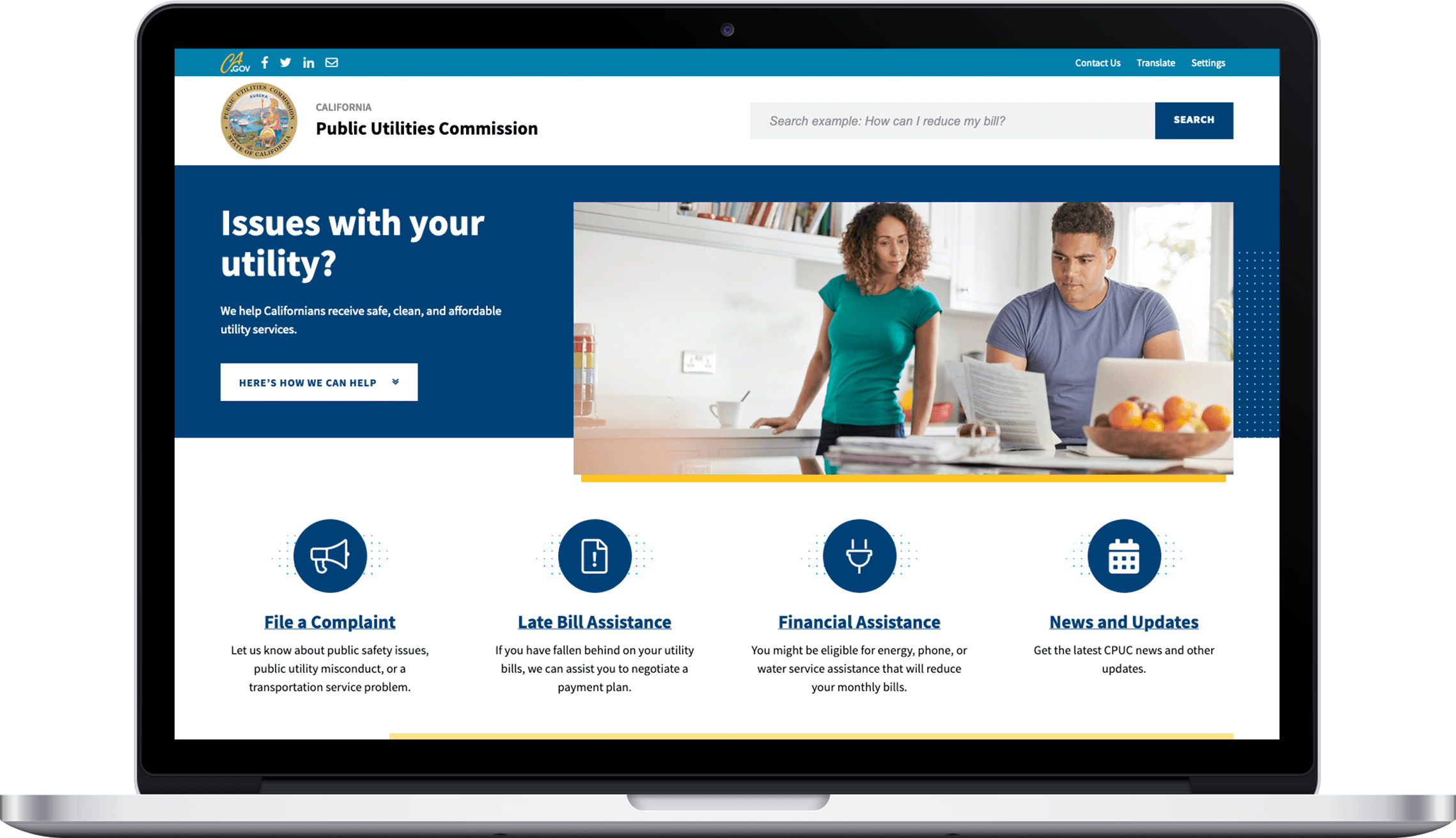 Platform Migration from Ektron to Sitecore with Coveo Search
The CPUC previously utilized Ektron as a CMS to manage the content on the website. Since Ektron's product lifecycle ended and the product has been replaced with EPI Server, CPUC decided to implement the new website with Sitecore, utilizing Sitecore's advanced layout, content, and workflow capabilities. This decision had another benefit—the availability of the Coveo custom search engine.
Coveo Search for Sitecore
Coveo for Sitecore is a self-learning AI-powered search, personalization and recommendations engine. It expands the content pipeline to any source with a single, unified index, and personalizes it to individual visitors in real-time with no manual tagging, programming, or rules management.
In CPUC's case, we were able to index documents stored in multiple Oracle-based business applications, such as the CPUC's Docketing system, and have them available on the main website in the search engine results page along with convenient sorting and filtering options.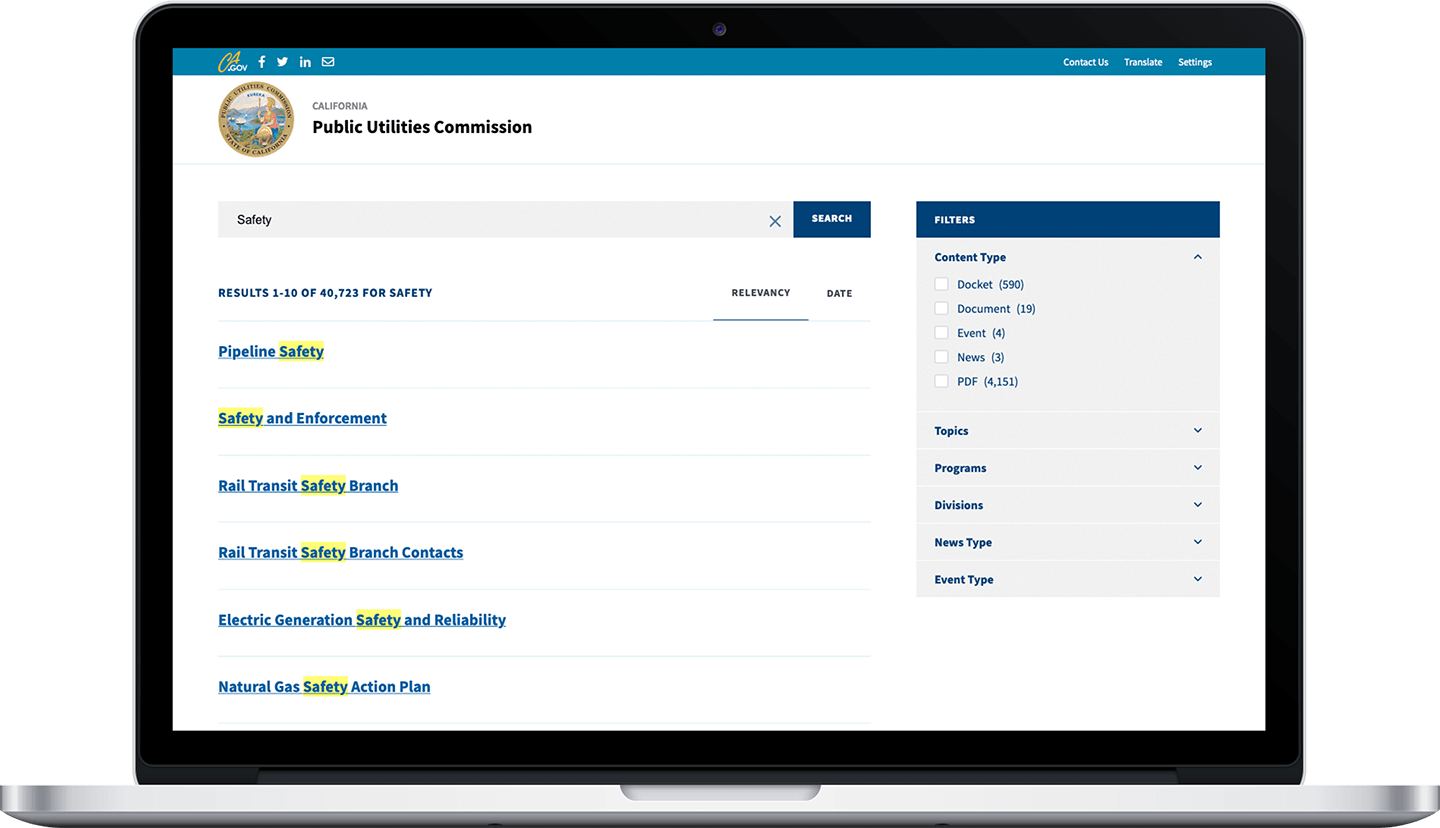 Sitecore Managed Cloud on Microsoft Azure
SymSoft deployed the developed solution to the Sitecore Managed Cloud in Microsoft Azure. We configured the website's hosting environments with infrastructure as code using Azure Resource Manager Templates (ARM Templates). The Azure DevOps pipelines configured by our DevOps team enabled quick and automatic deployments and code releases.
Users authentication was configured to use Azure Active Directory to provide the content authors and administrators the appropriate access.
The Sitecore's Managed Cloud provides the CPUC with Hot/Warm Disaster recovery environments for increase reliability and resources Auto-scaling for traffic peaks. 
Organizational Change Management Support
California Public Utilities Commission is an organization with more than 1,500 employees, multiple offices spread across the state, and a combination of administrative, operational, and utility-business divisions.
The IT portfolio includes a range of specialized business applications that help different business units and their constituents submit documents and track business processes and proceedings. These multiple business needs were addressed by including key stakeholders in the discovery process, as well as identifying opportunities to provide relevant governance options and website features.